WHAT'S NEW


Desert Friends 2nd Edition!
Desert Friends: Travels with the Pack is now available as a second edition! Friends Rodney the roadrunner and Quincy the quail meet hunting dogs Gator and  Tripod. The second edition includes fun parent and teacher activities to share with their readers. Learn about roadrunners and Gambel's quail, the Sonoran desert and more!
Watch Linda on
Talking Books with JT Crowley
Linda and JT Crowley discuss her latest book, Desert Friends.

Doc, Willie and The Pack
Animation by Archway Publishing
An introduction to Doc, Willie, and the Pack: Secrets, Gifts, Family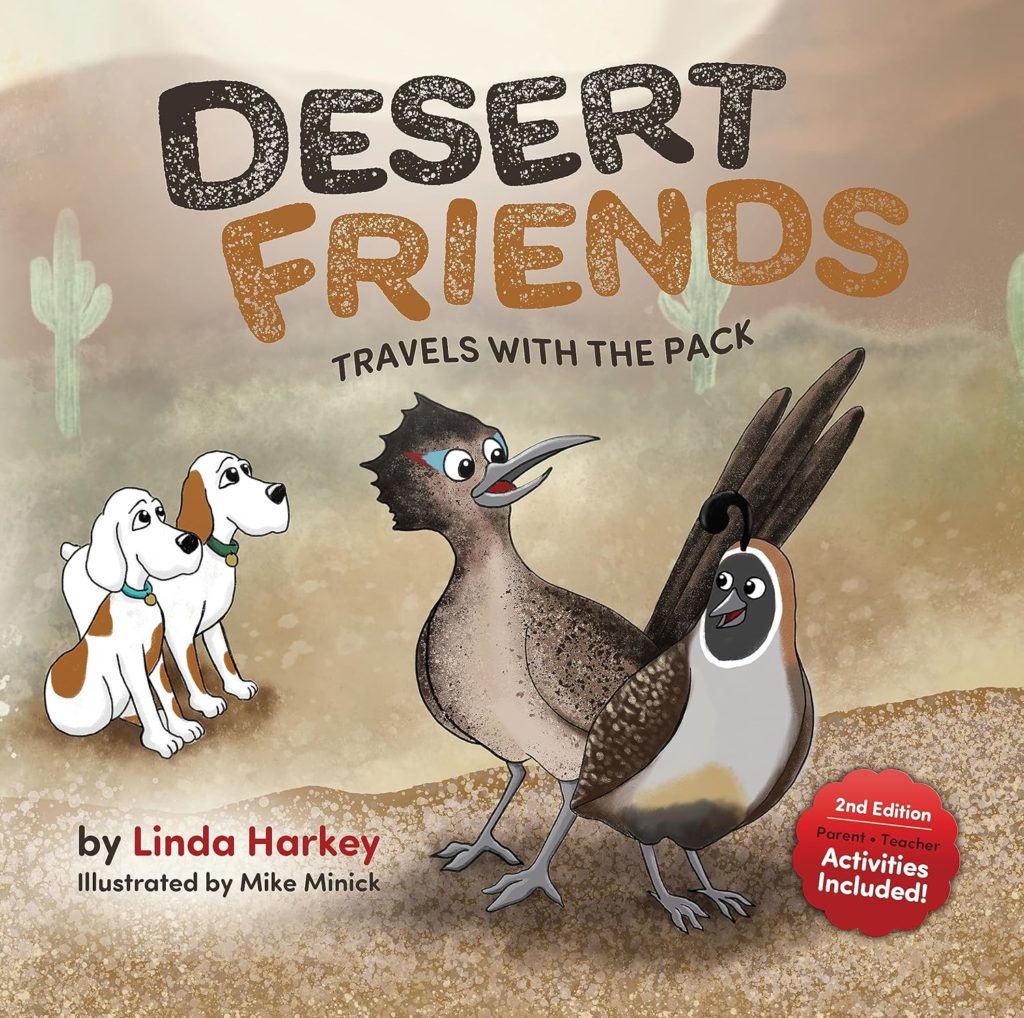 In Desert Friends Rodney, a roadrunner and his best friend, Quincy, a Gambel's quail, spend days racing each other through dry creek beds called arroyos. One day Rodney and Quincy meet two hunting dogs–Gator and his three-legged buddy, Tripod. Danger surrounds the four friends as a thunderstorm sends tremendous amounts of muddy water down the arroyo.
Chatty the Hen Pheasant is a humorous and adventure-filled story with plenty of action to keep the interest of elementary children. What happens when a smart pheasant meets up with a determined hunting dog? Chatty the Hen Pheasant will win the hearts and minds of all who read this story.
In Hickory Doc's Tales, Doc shares a host of humorous stories from his important role as a hunting dog, and he narrates what life is like at the kennel. Geared toward elementary school readers, this book helps youth transition to chapter books, and it encourages a host of creative writing opportunities and exercises.
Doc's Dog Days workbook includes portions of stories from the book series. These are humorous, educational, character building, and portray many of life's lessons. They help youth transition to chapter books. Teachers can use this workbook as activities for the series or stand alone projects for your students. The students can use their creativity to finish each story either by writing paragraphs, drawing their own illustrations, or coloring the existing ones.
The Wayward Path of the Devil and Mr. Snake in the Garden of Eden
In The Wayward Path, Percy the dove and Lucy the lamb help both Adam and Eve in the Garden of Eden. Then, one day the Devil and his assistant Mr. Snake sneak into the Garden. Why does God forbid Adam and Eve to eat fruit from the Tree of Knowledge of Good and Bad? What tricks do the Devil and Mr. Snake use on Eve? What happens to Adam and Eve in the Garden of Eden?
Story Monsters Ink Feature
Linda was featured in April 2022's Story Monsters Ink with a Doc's Dog Days-themed writing assignments for younger readers.